VPR Brands, LP is participating in the 2017 Champs Show booth #2620 on February 7th-9th
FORT LAUDERDALE, FL–(Marketwired – Feb 6, 2017) – VPR Brands, LP (OTC PINK: VPRB) is proud to announce the Company will be participating in the 2017 Champs Show booth #2620 on February 7th-9th. Champs Trade Shows have been a staple in the Counter Culture Industry for 18 years because of the high-quality attendees and vendors who continue to attend show after show as well as companies and inventors who bring state-of-the-art products to unveil at the event.
Kevin Frija, CEO of VPR Brands, says, "Our third trade show already in 2017 the Champs show is one of our favorites and has one of the most loyal followings, even before legalization took place. They may have to change their motto from 'Counter Culture' to 'Popular Culture' now that legal Cannabis and Marijuana is the most popular growth segment in the 'smoke shop' world. We are excited to keep up the forward momentum for the year with all of our new product offerings. The trade shows have been a great way to have face time with and let all our customers nationwide touch and feel our new products before ordering."
I have been attending Champs Trade Events for about 7 years now and have watched the evolution of the products, exhibitors, and industry as a whole. It is a fantastic place to be at the forefront of our target consumers to gauge real feedback and book serious orders. I am particularly excited as we will be unveiling our new Honey Stick Oz-ohm tank which has just arrived for the ultimate dry herb and crystallized concentrates vaping," says Dan Hoff COO.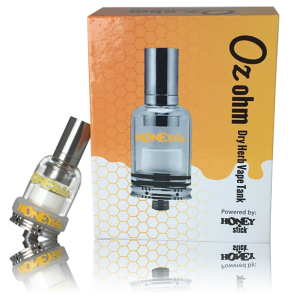 About the Honey Stick Oz Ohm Tank:
The HoneyStick Oz-ohm tank is a one of a kind dry herb and concentrates vaping device that is one of our newest and hottest products. Convert your current vape gear into a dry herb vaporizer simply by attaching the Oz-ohm ceramic dry herb vape tank. The Oz-ohm tank works with any existing sub-ohm vape gear. The ceramic heating plate has no exposed heating element and heats up almost instantly. You will not believe the vapor that you are going to get from your HoneyStick Oz-ohm Tank. For more information about this product, please visit the website at www.vapehoneystick.com.
About the Champs Show:
Champs Trade Shows is widely recognized as the largest and most trusted counter-culture trade show in the world. Since 1999, Champs has hosted the premier exhibitors in the industry and draws buyers in the thousands from all over the world to attend. For more information about Champs Trade Shows, please visit the company on the web at www.champstradeshows.com.
Forward-looking statements:
This news release contains statements that involve expectations, plans or intentions, and other factors discussed from time to time in the company's Securities and Exchange Commission filings. These statements are forward-looking and are subject to risks and uncertainties, so actual results may vary materially. The company cautions readers not to place undue reliance on any forward-looking statements, which speak only as of the date made. The company disclaims any obligation subsequently to revise any forward-looking statements to reflect events or circumstances after the date of such statements or to reflect the occurrence of anticipated or unanticipated events.