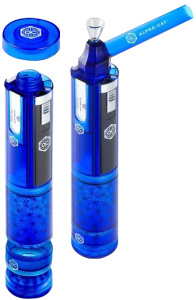 FORT LAUDERDALE, FL–(Marketwired – Feb 1, 2017) – VPR Brands, LP (OTC PINK: VPRB) entered into an exclusive distribution and sales agreement with Alpha-Cat, the creator of the AlphaPuff all in one deluxe smoker's kit. VPR Brands will represent the patent pending innovative all in one Cannabis water pipe travel kit by strategically introducing it within its distribution pipeline, showcasing it at large cannabis/smoking trade events, and further working with Alpha-Cat to continuously innovate on this revolutionary concept.
The Kit is made from medical grade Lustran ABS and comes complete with a grinder, rolling papers, filter tips, a custom made cleaning brush, and it turns into a portable premium water pipe with the downstem attached. The AlphaPuff kit has perfectly sized storage for rolling cones and aromatic material. In addition, the kit also includes a slim, sleek refillable Alpha turbo Torch lighter.
The value proposition with the AlphaPuff kit is to be offered a premium smoking experience with all supplies in one compact unit for an introductory price. Suggested retail pricing for the AlphaPuff kit is $59.00. For more information visit the website www.alphapuff.com.
"We are excited to introduce the 'AlphaPuff Kit' with VPR brands as our official distributor. Our goal was to ensure an ideal and luxurious smoking experience," says Yaniv Ben David of Alpha-Cat.
"We just debuted the product at the BIG show in Los Angeles and the TPE Tobacco Plus show in Las Vegas, two of the largest markets for legal Marijuana, and the response from the industry was even better than we could have hoped for. We have orders placed for immediate delivery from retailers and distributors as well as online retailers. This is one of the best launches we have ever had for a new product," says Kevin Frija CEO of VPR Brands.
"On-the-go items are the latest high growth trend in cannabis and smoking accessories; the AlphaPuff unit does an exceptional job of truly addressing all smoking needs in a compact and lightweight package. I was very impressed even with the first prototype which displayed form and functionality above and beyond other travel kits or on-the-go units, so I was very excited to secure this product into our 2017 portfolio," says Dan Hoff, COO VPR Brands.
Alpha-Cat will continue spearheading the design and marketing for this product group while working with VPR to tap into an already well-developed distribution channel and sales network. VPR will import and warehouse the product as well as complete order fulfillment from its Ft. Lauderdale facility. AlphaPuff will manage and grow eCommerce sales, marketing, as well as social media.
Initially, the AlphaPuff kit will be available through the below distributors for immediate delivery by the second week of February: Glass on Demand (glassondemand.co) and Direct Vapor (www.directvapor.com)
About Glass on Demand:
Glass on Demand (G.O.D) is a Colorado-based company that specializes in dispensary and smoke shop distribution from pipes and accessories to high-end glass pieces. With a specialty in providing good customer service, rapid turnaround time and providing praise-worthy pipes and accessories to people all across the country their herculean selection is practically everlasting, where one can find a variety of rigs, bubblers, handheld vapes, dry pipes and accessories which will help obtain the heavenly hit. No need to live like a mortal. You can arrange to pick your order at a local dispensary free of charge or we will ship it right to your doorstep (if you live in the U.S.). Find salvation in the struggle with easy access to glorious glass.
About Direct Vapor:
DIRECTVAPOR is a vape and alternative products super source, which is a one stop shop for your Vape and accessories. With proprietary relationships with a majority of the major manufacturers within the vape industry, Direct Vapor is able to provide the most competitive pricing for consumers or resellers. Having a physical inventory of all major items allows them to provide rapid shipping times and superior service which goes beyond what the Vape industry is accustomed to. Direct Vapor brings clients Free Shipping with No Minimums, and a Lowest Price Guarantee, a 60 Day Warranty and a15 Day Return Policy.