FORT LAUDERDALE, FL–(Marketwired – April 27, 2017) – VPR Brands, LP (OTC PINK: VPRB) and Gold Nugget teamed up at the High Times Cannabis Cup So-Cal April 21-23. The Entries were within the Vaporizers and cannabis concentrates categories. All Vaporizers were powered by Honey Stick and filled with the best of Gold Nugget Extracts / New Amsterdam Naturals. The team achieved great success by having rankings in all categories entered.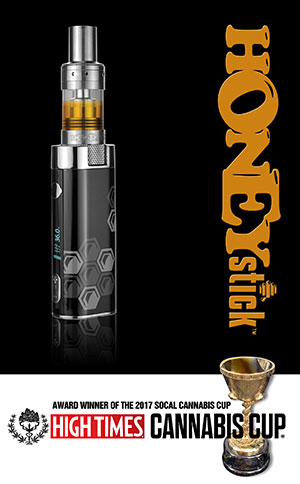 In the Hybrid concentrates Category Gold Nugget Extracts / New Amsterdam Naturals won a first place trophy with their Strawberry Banana Cake Batter Live Resin proprietary extract. The Honey Stick Sub Ohm starter kit entered as the "Full Spectrum Vape Pen" finished in 2nd place within the Vape Pen Cartridges Category. The Team came away with a 3rd place finish within the Indica Concentrates Category for the strain "Larry OG Live Resin THCA Sugar" and also came in 7th place in the same category with "Larry OG THCA Crystalline".
"It was great to be a part of this year's Cannabis Cup held in San Bernardino in California, and having our team and our products participate in this yearly event was both an honor & testament to what VPR Brands has achieved in a short period of time. Placing in the top 3 for various categories amongst such a talented and seasoned field has garnered our brands, team, and company priceless cache within the industry and we are already reaping the rewards via interest & new clientele.  To walk away with awards amongst the best of the best is both humbling and fulfilling. We wanted to thank everyone who believed and supported us in preparation for the competition, specifically the Golden Nugget Extracts team & our loyal & new customers of Honey Stick," said Dan Hoff, COO of VPR Brands.
"We have set the bar very high for our first Cannabis Cup & industry event with what we can now proudly call our Award Winning Honey Stick Team. We will continue to innovate, grow our product lines & distribution model as this is just the beginning," said Kevin Frija CEO of VPR Brands.
About Honey Stick:
Honey Stick is a lifestyle brand that combines the features of high tech, high performance, dependability, and affordability when it comes to upper tier vaporizers. From being the first to market in creating a Sub Ohm Vaporizer to the latest Rippo, the honey stick teams works with a vast network of growers, extractors, and industry figures to bring the needs of patients and recreational users to life. Honey Stick sells online and through a diverse network of distributors, e-tailers, dispensaries and smoke shops. For more information about VPR Brands, please visit the company on the web at
http://www.vapehoneystick.com
About Cannabis Cup:
HIGH TIMES US Cannabis Cup So Cal. Taking place at the National Orange Show in San Bernardino—we're celebrating California's recent legalization of recreational cannabis! HIGH TIMES taught the world to grow, and now we're giving you a live cannabis experience, featuring a live grow room, a cannabis career fair, edibles village, topical massage spa, vape lounge and so much more!
About Gold Nugget Extracts:
Gold Nugget Extracts passion for cannabis began in the late 90's in the San Fernando Valley area of Los Angeles CA which has driven our team to pursue the purest extracts and craft the finest concentrates of various forms. With a white glove approach throughout the process, the final products are of the ultimate connoisseur grade. Gold Nugget Extracts has developed unique and proprietary methods within the realm of hydrocarbon extraction, while constantly evolving through innovation. It is with these unique techniques that the Gold Nugget Team is able to produce the various extracts such as; THCa crystalline, live resin THCa sugars, distillate and high terpene extractions at ground-breaking quality. Our team is constantly pushing the limits of what can be done with the cannabis plant and is driven by research and development. At Gold Nugget Extracts we strive to provide a product that is second to none, with both medicinal benefits and recreational pleasure.