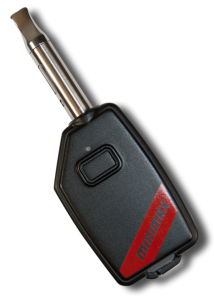 FORT LAUDERDALE, FL–(Marketwired – Feb 24, 2017) – VPR Brands, LP (OTC PINK: VPRB) is revolutionizing the market for vaporizer batteries with the launch of the proprietary MINIMAX Key FOB Battery. Small, light, and powerful the minimax looks like a regular car FOB or clicker, but hidden below the lightweight shell is a 500mah battery that runs at an output level of 4 Volts. This minimal sized battery takes discretion and concealment to the max by fitting on a key chain and having a micro USB plug-in to charge, it flies stealth on any bundle of keys. It is the Vapor battery you cannot leave home without and with the capacity that is 2 times what many vapor batteries are it won't need a charge very often. The battery is a push button design with a preheat function for cold days or thick essential oil, has a locking feature and automatic timeout function as well. The small compact and travel-friendly rectangular design battery which has a convenient key ring is destined to become the go-to product for anyone who chooses to vape instead of burn.
"Aside from the obvious cool factor of the MiniMax battery in terms of appearance, utility, and discretion there is a big problem in the prefilled cartridge industry as extractors move to higher end prefilled vape cartridges of cross compatibility, I hear more and more of these stories on a daily basis. Not all cartridges work with all batteries leading to higher return rates and customer dissatisfaction and it is a growing problem. Our development team purchased a large variety of high-end cartridges used today by extractors and would not approve the final prototype until it worked with all of them properly. The MiniMax will be the first battery on the market with a 99.9% compatibility rating with superior power and functionality. I believe this battery will make old style vape batteries obsolete and could be the first of a new trend in vape devices," said Dan Hoff, VPR Brands, LP COO.
"Dan and I were going over some older blueprints, ideas, and market trends which led into a late night brainstorming session where the concept and foundation for the MiniMax was born. Our design and development team then got to work and spent a considerable amount of time working on this product into making it as lightweight and high power as it is. They also added several consumer-friendly features like a micro USB charger and a key ring to make this the most convenient, discrete and best-performing vapor battery on the market," says Kevin Frija, CEO VPR Brands, LP.
MiniMax vape battery will retail just under $30.00. This is a new must have accessory for anyone who enjoys vaping from smaller tanks or cartridges, especially those who use essential oils for medical purposes.
The MINIMAX will be available for pre-order on http://www.vapehoneystick.com/shop/minimax-vaporizer.html and will be distributed by Devine Distribution of Pompano Beach Florida www.devinedist.com. The product will be available in stores and online in time for 4/20 2017 and will also be distributed by and available for sale wholesale and retail through Vapor Nation www.vapornation.com
About Vapor Nation:
About Vapor Nation. Located in Southern California, VaporNation was formed in 2008 with the simple goal of providing customers with the very best vaporizers at a reasonable cost. We are the master or exclusive distributor for most brand name vaporizers, which enables us to take advantage of significant discounts on large quantity purchases. We then pass these savings onto our customers by providing the lowest prices — guaranteed!
We provide the very best customer service by offering 24/7 Live Chat assistance and helpful telephone support. This ensures that our customers have immediate access to our "Vapor Experts" who can answer questions and provide guidance for each vaporizer purchase. For more information about visit www.vapornation.com
About Devine Distribution:
About Devine Distribution – Devine Distribution of Pompano Beach, FL is a leading one stop distributor for all vape products and accessories. Devine services a large number of Vape shops, smoke shops, head shops as well as dispensaries. Devine Distribution offers superior customer service through its expert staff and offers same day shipping on orders, they have a convenient self-service wholesale website and always have the latest in vaporizers available to ship.